Choosing the right size of area rug
See More about Choosing the right size of area rug >>>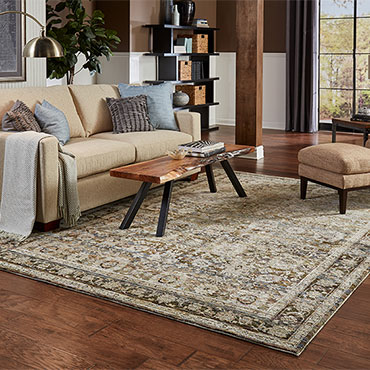 Choosing the right size of area rug is just as important as selecting a pattern or color. Whether rectangle, square or round, the perfect size and shape of a rug is critical to achieving the right look for a room's particular proportions and design.
For example, the size and shape of a rug can help define sitting, dining or accent areas of a space by accentuating particular groupings of furniture. Furniture can be positioned either directly on the rug or around it depending on the size of the room or the aesthetics you want to achieve. Use of multiple rugs can draw the eye from one room or area to another.
However, there's a science to choosing the proper size of rug for a particular application. Use this handy guide to help you determine the right rug for your room.
---
NOTE:
LP Mooradian Flooring Co does not carry every style of product. Check with us first about a particular product or to see if your product choice is available for special order.
---

---
Oriental Weavers Rugs
Oriental Weavers provides a wide array of products ranging from area rugs in all sizes to wall to wall carpets for domestic use to custom made orders for the hospitality industry.Design and colour variety give us the capability to keep up with the latest fashion trends world wide and thus remain the number one rug and carpet manufacturer in an ever growing industry.
---
Profile
|
Website
|
Tips