Diamond Flex-Lok™ Interlocking Rubber Floor Tiles
See More about Diamond Flex-Lok™ Interlocking Rubber Floor Tiles >>>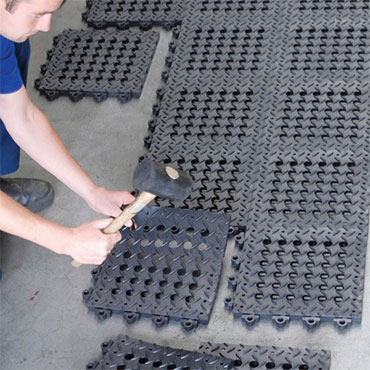 Diamond Flex-Lok™ is a high-performance modular rubber matting system that combines the durability and toughness of an industrial mat with true ergonomic support and comfort. The ergonomic properties of Diamond Flex-Lok™ are the result of a multi-tiered footing design that elevates the mat off the floor, creating air pockets that allow the mat to flex with the weight of the worker.
A large hole drainage system facilitates the removal of liquids and debris from the work area while a pronounced raised diamond pattern on the mat surface, and an inverted-V pattern on the ramps provide additional traction. Diamond Flex-Lok™ interlocking floor tiles are manufactured from 100% recycled PVC for greater resistance to industrial chemicals, cutting fluids, oils and greases. A unique interlock system that comes apart only when you want it to allows for easy reconfiguration. Create your own workstation configuration or select an assembled stock size.
WARNING: This product can expose you to chemicals including di-2-ethylhexyl phthalate and/or diisononyl phthalate which is known to the State of California to cause cancer, birth defects or reproductive harm.
---
NOTE:
LP Mooradian Flooring Co does not carry every style of product. Check with us first about a particular product or to see if your product choice is available for special order.
---